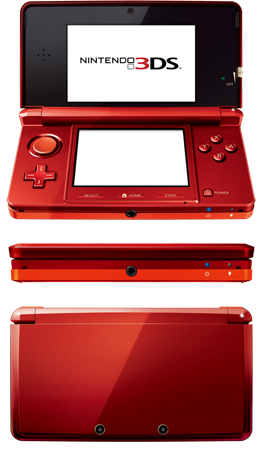 Note: Please comment, I spent a lot of time on this article today. Id appreciate it if you did :)
Anyway on with the show...
Ok so surprise surprise, the Nintendo 3DS got announced. Even though I blogged about this a fair few months ago (
here
and
here
), its still pretty damn exciting. I got up this morning to check this shit out and it looks pretty wicked. Following up from my previous blog post about the 3DS, yes you don't need glasses for it. Although it is made as a 3D game system you can easily adjust the depth of the third dimension or you can completely turn it off (this is probably best as at first, its gonna strain your eyes like fuck).
Heres the trailer for yall
"Whats in this new techmological device?" I hear you ask.
Well...
It sports a top 3D screen (yes only the top, the bottom is just ya standard DS touch screen, just higher res) thats 3.5 inches. Thats like if you got 4 inch long pieces of, cut one in half, connected them together and made it diagonal! (The res of the top screen is 800 X 240 with 400 additional pixels dedicated for each eye)
It will support backwards compatability (standard DS games (the ones you have now... :D))
The picture you see on the right is NOT the final design. Well saying that, they could decide to keep that design but at the moment, it will change.
It will have 3 cameras. On on the inside and two on the outside so you can take 3D pictures. Its only something like 0.3 mega pixels though, so don't expect to be blown away.
The controls are pretty much the same as the old system EXCEPT it now has a 360 degree "slide pad" which is kinda like the ones you find on the PSP.
Constant Wi-Fi connection for all you peoples like me who have wireless at home. Your even gonna be able to switch it off in-game.
Home button to return to the system menu (hopefully a bit better than the standard ds menu which was boring.
Yall gonna get a AC(but not /DC unfortunately... yeah you know where I was heading with that) charger to charge your 3DS.
You gonna have parental controls so that your young ones don't go shooting hookers on GTA.
Some developers are even saying that the technical capabilities exceed the Gamecube and the Wii
Now, lets face it, the DS's graphics sucks dick... seriously. Nintendo though have realised how crap the graphics where in the previous one and given us an overhaul to some really fuckin' sweet graphics.

(Scroll to the bottom of this post to see some sexy screenshots.)


Now, the games we know that will be coming to the system so far (just add 3DS to the end of each title and thats the complete name)
Legend of Zelda: Ocarina of Time (ohhhh yeah!)
Metal Gear Solid
Resident Evil
Dead or Alive
Kingdom Hearts (my face when I heard this)===>
Street Fighter IV
Paper Mario
Star Fox (I did a barrel roll in excitement for this)
Mario Kart
Pilot Wings (and judging from the screenshots, you gonna be able to fly around Wuhu island from Wii Sports Resort)
Steel Driver (looks like a submarine game, rather boring by the looks)
Animal Crossing
Kid Icarus Uprising
Nintendogs
Professor Layton
Samurai Warrior 3D
Ridge Racer
Battle of the Giants: Dinosaur Strike
Chocobo Racing (yawn...)
DJ Hero (dunno if there will be any peripherals)
Sims 3 (proper one where you make your house and stuff, none of that other non-PC bullshit)
Ghost Recon
Splinter Cell: Chaos Theory
The system is expected to be available late this year or definitely by March 2011. No official date or price has been announced yet.
UPDATE: Here is a complete list of the games that will be available so far...
Activision
DJ Hero 3D
AQ INTERACTIVE
Cubic Ninja
ATLUS
Etrian Odyssey
Shin Megami Tensei
Shin Megami Tensei: Persona
Shin Megami Tensei: Devil Survivor
Capcom
RESIDENT EVIL® REVELATIONS
SUPER STREET FIGHTER IV 3D Edition (name not final)
Electronic Arts
FIFA Soccer
Madden NFL
The SimsTM 3
Gameloft
Asphalt GT
Harmonix
Music game
HUDSON SOFT
Bomberman franchise
DECA SPORTS franchise
KORORINPA franchise
KONAMI
Baseball franchise
Contra franchise
Frogger franchise
HIDEO KOJIMA'S METAL GEAR SOLID SNAKE EATER 3D "The Naked Sample"
PRO EVOLUTION SOCCER franchise / WINNING ELEVEN franchise
LEVEL-5
Professor Layton and the Mask of Miracle (name not final)

Majesco Entertainment
BloodRayne: The Shroud
A Boy and His Blob
Face Racers: Photo Finish
Lion's Pride: Adventures on the Serengeti
Martha Stewart
WonderWorld Amusement Park
Marvelous Entertainment
BOKUJYOUMONOGATARI 3D (name not final)
NAMCO BANDAI Games
Dragon Ball® franchise (name not final)
Gundam® franchise (name not final)
PAC-MANTM & GALAGATM (name not final)
RIDGE RACER® (name not final)
Super Robot franchise (name not final)
Nintendo
Animal CrossingTM
Kid IcarusTM: Uprising
Mario KartTM
nintendogsTM + cats
Paper MarioTM
PilotWings ResortTM
Star Fox 64TM 3D
Steel Diver
Legend Of Zelda
ROCKET
Crash-City GP VS-robo
SEGA
Sonic (name not final)
Super Monkey Ball (name not final)
SQUARE ENIX
CODENAME: Chocobo Racing® 3D
DRAGON QUEST® franchise
FINAL FANTASY® franchise
KINGDOM HEARTS franchise
Take-Two Interactive
Carnival Games® franchise
TECMO KOEI GAMES
DEAD OR ALIVE® 3D (name not final)
DYNASTY WARRIORS® (name not final)
NINJA GAIDEN® (name not final)
SAMURAI WARRIORS® 3D (name not final)
TOMY
LOVELY LISA 3D
NARUTO SHIPPUDEN ACTION
THQ
de Blob 2
Kung Fu Panda Kaboom of Doom
Marvel Super Hero Squad Infinity Gauntlet
The Penguins of Madagascar
Puss N Boots
Saints Row: Drive-By
Ubisoft
Assassin's CreedTM Lost Legacy
Battle of GiantsTM: Dinosaur Strike
Driver® Renegade
Hollywood 61 (name not final)
Tom Clancy's Ghost ReconTM
Tom Clancy's Splinter Cell Chaos TheoryT

Warner Bros
Batman franchise
LEGO franchise
Legend of Zelda: Ocarina of Time
Splinter Cell: Chaos Theory
Sims 3
Ridge Racer
Samurai Warrior 3D
Mario Kart
Kid Icarus: Uprising
Dead or Alive
Resident Evil
Thanks for reading kiddies!
Yes, I'm shitting my pants with excitement for this... just Nintendo, please release it AFTER end of year exams... PLEASE!